Case Study
1. Acquiring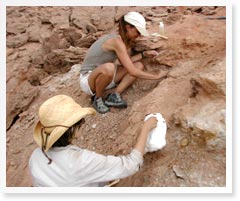 Excavation can be arduous and, at times, even tedious, but it is thrilling to uncover a specimen that is millions of years old. Although some types of fossil specimens are stable upon excavation, others are extremely fragile. Generally specimens are block lifted, meaning that an entire block of matrix in which the specimen is embedded is removed from the ground and encased in a protective jacket lined with padding and plaster bandages. This field jacket, seen in the middle of the excavation image, contains the bones of an oreodont (a 25 million year old fossil mammal). It will be shipped back to the Paleontology laboratory at the American Museum of Natural History. This is where the real process of uncovering, processing, and studying the specimen will begin. For more information on excavation click here.
2. Storing
Unpacking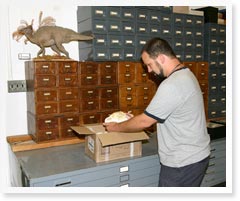 After excavation the specimen, still safely protected by its field jacket, is sent back to the Vertebrate Paleontology Lab at the American Museum of Natural History. Once the specimen arrives in the lab it is unpacked by a collections staff member who prepares to process it into the museum's collection.
Rehousing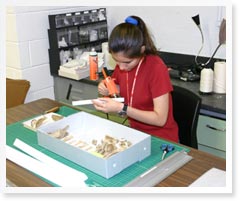 Creating safe housing for fossil specimens is a bit like a 3-dimensional puzzle. Archival materials like polyethylene foam and acid-free board are stuck together using hot melt glue to create a stable support and padding that will prevent specimens from rolling around in drawers or banging into each other, which could result in damage or losses. To learn more about materials and techniques for archival specimen storage click here.
Storage
Once a specimen has been prepared, catalogued and received a proper storage mount it can be safely placed in storage. If the specimen has not yet been identified and cataloged, it gets placed temporarily in a holding cabinet until these tasks have been completed. Once the specimen is in its final home in the collection, the drawer and cabinet numbers are recorded and entered into the database to make the it easy to find when it is needed for research, loan, or exhibition. To learn more about the different equipment for safe storage or for ways to organize specimens in storage click here.
3. Tracking
Cataloging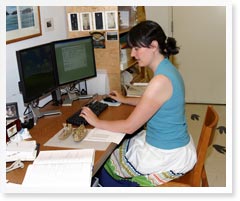 A collection manager catalogs the specimen by entering its identifying information into the Collections Management Database. Cataloging can be done in a number of different ways, from sophisticated computer databases, through simple spreadsheets, to paper ledgers or card files. The important thing is that the sample be assigned a unique identifier (a catalog number), which links the specimen with all of the information associated with it. This includes the information that was written on the field jacket, which is also recorded in the database.
Marking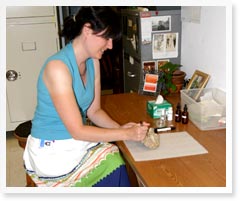 Specimens are labeled with a catalog number that allows them to be linked to their information in the card catalogue or database. A layer of an acrylic resin is first laid down and then the number marked in indelible ink. Click here for more information on why it is important to label specimens and specific procedures on how to mark them.
4. Sharing
Preparation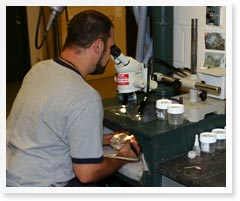 While a specimen is discovered during excavation, it is usually only fully revealed through preparation. Although this process is time slow and time- consuming it is exciting to watch as the fossil is gradually revealed. Preparation is normally undertaken with a specific goal in mind; for example, to reveal features necessary for identification or research, or to allow a specimen to be displayed on exhibit. Preparation, can be done using physical or chemical techniques but should only be carried out by trained individuals, as it requires specialist knowledge about the morphology of fossils, as well as technical skills that require training and education. For more on how specimens are prepared click here.
Exhibition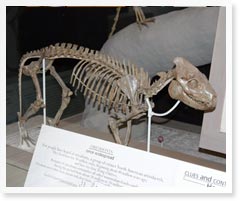 Here the fully prepared articulated oreodont specimen is on exhibit in the American Museum of Natural History's Hall of Fossil Mammals where it can be seen by the four million visitors to the museum each year.